Basic Steps to Protect You & Your Business on Cyber Monday & Beyond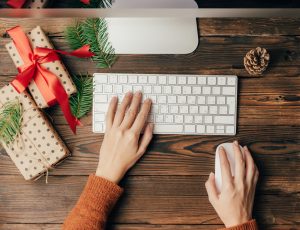 Online shopping is exploding this week and many online retailers are hinting that they'll extend deals past Cyber Monday. Criminals know this, so here are some tips to protect your security, your money and your business this holiday season:
Watch Your Inbox
Be careful going through those emails. If your inbox is like ours, the volume of sales announcements have quadrupled this week, so it's easy during the busy holidays to identify a malicious email. Before you click that "40% Off - TODAY Only!" link in a retailer's email, ensure that the sender's address is from the actual website, and not from a spoofed address. The link itself could download malware onto your system, or take you to a site containing malware.
Most important: a lot of online shopping occurs on during work hours, on company network computers and connected mobile devices. Make sure your endpoints are protected, policies are set, and you have regular back-ups, in case your network is compromised. It just takes one vulnerability if the there are security holes.
Beware of "Spoofed" Shopping Sites
Domain "look-a-likes" of online retailers are on the rise, according to a recent study by security company, Venafi. Examine links in emails by hovering your screen cursor over links and read the URL. Spoofers often scramble just a few letters in a company's name, and the fake sites themselves often look real enough to entice buyers to make purchases (and hand over credit card and personal info), or they carry malware links.
If you have doubts about a URL's authenticity, copy and paste the URL on a link checker like Norton SafeWeb (https://safeweb.norton.com/) or the Safe Browsing tool on Google Transparency Report (https://transparencyreport.google.com/safe-browsing/search?hl=en) .
Set Safe Online Shopping Policies in the Workplace: Educate Employees

Teach employees how spoofing emails and sites work, as well as info on the dangers of phishing emails and ransomware. SMBs are more targeted than large corporations these days, and thieves are getting better at researching companies and individual employees. They learn behaviors, contact lists, and other critical company info, which they use to target their scams. Holiday shopping presents even more opportunity for criminal access, so put employees on alert.
Shop Only From a Secure System: Update Operating Systems & Apps
Make sure the anti-virus is updated, too.
Use Apps Instead of Browsers on Mobile Devices
Shop only with trusted vendors and use their apps. Often their mobile browser websites are not as secure, or they use 3rd-party sites for payment, over which they may have less security control than they do via their own mobile application.
Here's a 6th tip: If you think your system has been compromised, or you  need more security in place, Cratin Computing can help with all of that. Call us today: 215-793-4200 to talk about the steps you can take to keep your company safe from online shopping dangers, as well as any other security issues. Here's to Safe & Happy Holidays!